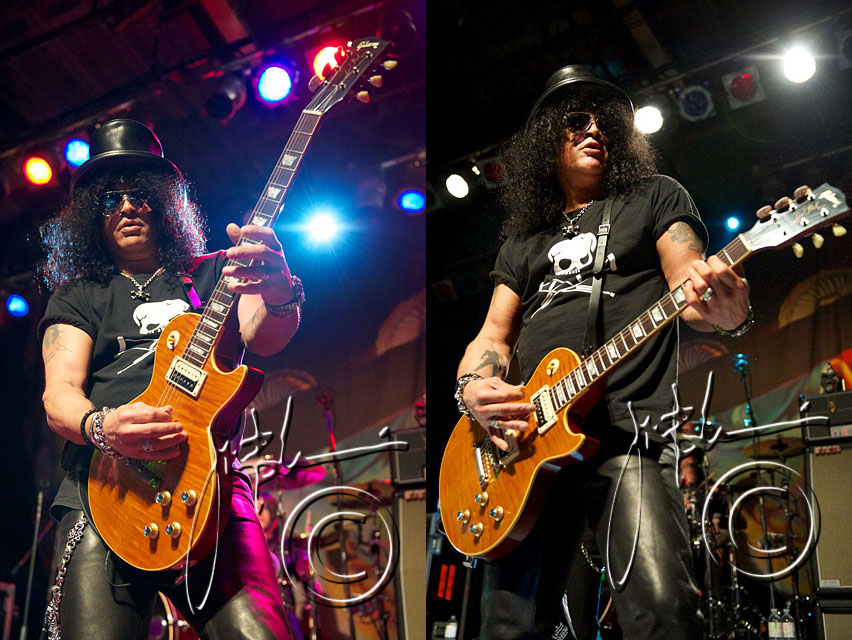 Over the past couple of years I've exchanged a long string of emails with the manager of rock guitar legend Slash.   I wrote recently that I was able to spend some hands-on time with a pre-production sample of Nikon's brand new flagship DSLR, the D4.  While those two statements may seem entirely unrelated, a few days ago they came together in a most outstanding way.
Slash's manager Jeff and I had been discussing the possibility of setting up a quick portrait session to include Slash in my Musical Ink book project.  Ultimately it was not meant to be as Slash really prefers not to talk about his tattoos; I've long subscribed to the edict that if you don't ask, you don't get.  Asking doesn't guarantee that you'll get, but not asking pretty much assures you won't.  Nothing ventured, nothing gained, etc., etc.
Canadian Music Week just wrapped up and one of the week's keynote speakers on Friday was Slash.  With his new record 'Apocalyptic Love' set to drop on May 22, it seemed a perfect opportunity for a show.   That show, at Toronto's Phoenix Concert Theatre had apparently sold out in under twenty minutes.  While Slash won't be in my Musical Ink book, Jeff was happy to let me shoot the show.
Cue my good friends at Nikon.  A live show by one of rock's iconic guitarists seemed an absolutely perfect place for a real world test of the D4 and Amanda, Toronto's Nikon Professional Services manager agreed.
I picked up the camera on Thursday and 'made it my own', adjusting some settings and tweaking a few custom functions to my preference, things like using the AF-ON button rather than the shutter release for initiating auto focus.  I really wanted to give the high ISO capabilities of the D4 a workout, along with the autofocus, metering and overall handling of the camera while doing what I do.
Slash & his band were going on at 11 o'clock Friday night and it turned out that media access to the packed house was extremely restricted with only 5 photographers being permitted into the unusually spacious pit to shoot the first three songs of the set.
Three songs always seem to fly by but they really do afford plenty of time to come away with images.  Friday night, using the D4, I was able to come away with nothing I could have imagined.  Wanting to really see the D4 could do, I set the ISO to 12800, the highest setting in the camera's 'native' ISO range before leaving for the show.  The D3/D700 bodies I regularly shoot live music with are generally solid up to 6400 if the exposure is tight, and noise can be managed fairly well in Photoshop's Adobe Camera Raw before actually opening the file.
I always shoot live music in RAW to allow more control & adjustments later if necessary.  The drawback of shooting RAW is the buffer size of the D3/D700 bodies; if you go on a long burst, they start to hiccup around 15 frames.  Loaded with a Lexar Professional 600x 32GB UDMA CF card, I wanted to see what the D4 could do so at one point I just hammered down…and it kept shooting.  And shooting.  And shooting.  Recording 12-bit lossless compressed RAW files, the D4 has a buffer capacity of 92 images.  Far, far beyond any reasonable or practical use I can think of, but plenty of head room even if you go on a 20 frame run.
The images you see here, all shot with the D4 (at ISO 12800, remember?), with the exception of a little bit of toning and a bit of sharpening, are straight out of the camera (they were converted to jpg in Aperture and toned and sharpened in Photoshop CS5).  The noise is…well, there isn't any noise.  I applied no noise reduction to any of these; not in the camera, not in the computer. In terms of handling, the ergonomics are bang on, particularly that vertical AF-ON button; my hand just falls right on top of it.  The autofocus is incredibly fast and insanely accurate.  All of these images were shot with my AF-S 24-70/2.8, one of the sharpest lenses I own.  I shot about 95% of the images I made Friday night with that combination (the rest were with a D3/AF-S 70-200/2.8VR, and a few with a D7000/10.5 fisheye).
I think this is the beginning of a beautiful friendship…