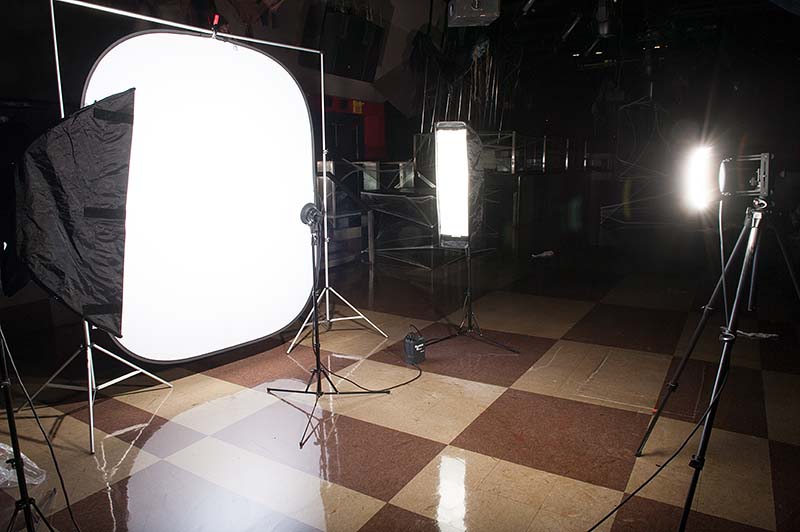 I have been shooting lit portraits for a long time. When I first started working in the news media so many years ago, those portraits were lit with one, sometimes two Vivitar 285 flashes. As my work gravitated into a slightly more commercial realm, I needed bigger lights. I bough a couple of used (abused, really) Speedotron 2400 w/s packs and a few 102 heads and they skies opened. Softboxes and umbrellas and scrims, oh my. The difference in the power and the quality of light compared to the 285s was, well, night & day. The Speedotrons were bulletproof, but they were also very old and very heavy.
After a couple of years, I replaced those old faithful packs and heads with some Profoto gear. That system was pretty. Faster and lighter than the Speedos, it was also much more expensive, however the higher cost gave me beautiful light. With the exception of the stands and softboxes, I could fit the entire system into a large Lightware case. Sure I still needed to haul it around on a two-wheel dolly, but it was all in one case, unlike my previous system which typically needed three or four trips to load into a location.
Having used the Profoto system to a point where I didn't really even have to think about the controls when making lighting ratio adjustments, I began work on my Musical Ink book project shooting very, very fast portraits of musicians. If I was shooting locally in Toronto, I could load up the car and, with a third arm, make it inside the venue/hotel/office where I would be setting up in just one trip with a fully loaded UPS dolly. It was still a ton of stuff to carry though, so I began to reevaluate my lighting system.
I owned a couple of Nikon SB-900 Speedlights at the time and gave serious consideration giving up my Profoto system and going all small flashes. Joe McNally does it. So does David Hobby. Why couldn't I do it too? So, I picked up another four SB-900s and after hanging onto it for a few more months, sold off my entire Profoto system (except, strangely, one speedring which I recently discovered in my office).
I McGuyvered a couple of Lastolite brackets and was able to use my same old softboxes to light my portraits. I triggered the lights with Pocket Wizard TT5 radios and as a whole the system worked great. It wasn't cheap to be sure, but I could travel with two carry-on camera bags; one with my flash system and one with my cameras and laptop. If my checked luggage was lost, I was still able to work. For the next four years, that was my entire lighting kit and it was great…almost. The one single down side had always been battery power. At full or nearly full power, the recycle time was long and shooting with 'my' rock stars, I had to maximize my frame count in the minimum amount of time.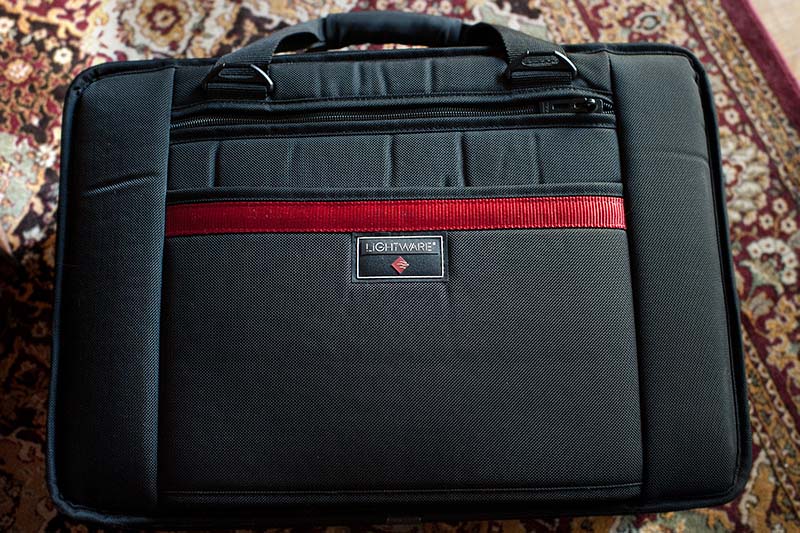 While I know now that they have been around for several years already, I recently discovered the Elinchrom Ranger Quadra system. I tend not to be much of a gear hound, never really caring about having the latest and greatest shiny new toy. When I stumbled upon the Quadra, I knew I had finally found the perfect system for my needs.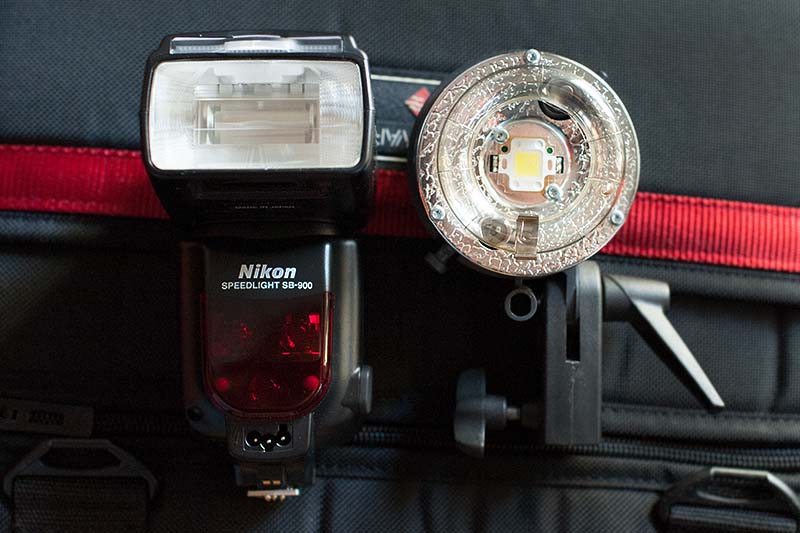 The Quadra system consists of a battery-powered 400 watt second pack and will run two heads asymmetrically (66%/33%). As shown here, the heads are actually smaller than the SB-900s I was using and at full power with a single head, put out out roughly 4 times the light of one SB-900. The system includes a SkyPort radio transmitter and the pack has a built-in receiver. Working together, that radio system allows adjustment of the power output right from the camera, not unlike the Pocket Wizard AC3 or the Nikon SU-800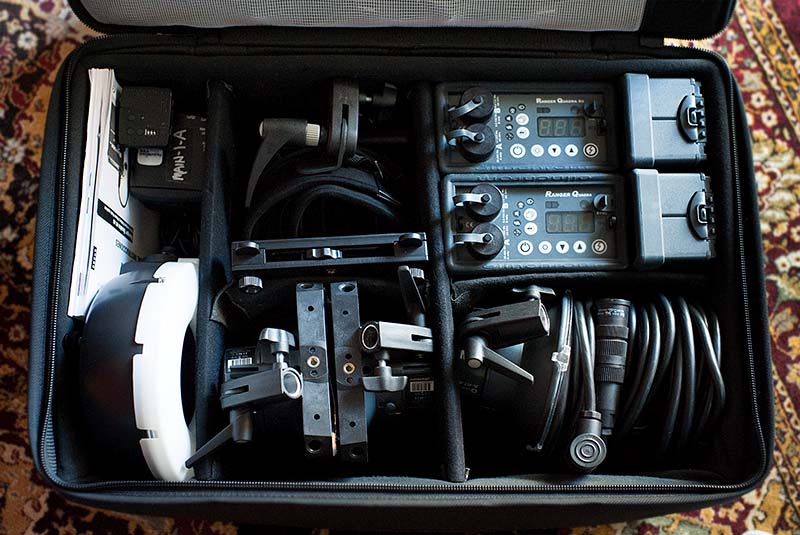 I still have a pair of SB-900s to use for my news work and a couple of Pocket Wizard TT5 radios that I employ when I rig a remote camera, but for location lighting, the Elinchrom Quadra system is my ideal. Two packs, three batteries and four heads (plus the awesome, light ECO ring flash) all fit into a carry-on legal Lightware case and the whole kit weighs in at just under 29 pounds – a Speedo 2400 w/s pack all by itself weighs…29 pounds. Before you start yelling at your computer, I'm well aware that the comparing the two is apples to amplifiers, however, for the vast majority of work I do, I'll take 2-400 w/s packs & four heads that weigh the same as a single 2400 w/s pack every day, especially when I'm working on location where I'd rather not have to hunt for power, without an assistant, shooting a subject who has about two minutes to give me.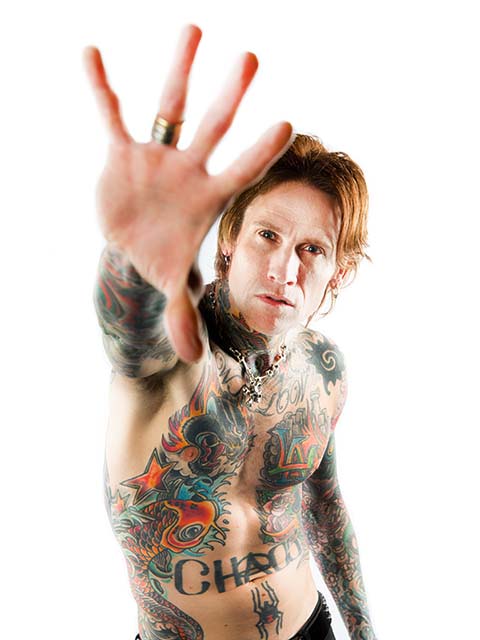 The above image of Buckcherry's Josh Todd is a perfect example of one of my backstage portraits; shot backstage at Toronto's Phoenix, I had him in front of me for about three minutes and had to be set up and torn down in twenty because the space I was given was quickly turning into the merchandise area and would soon be filled with fans buying t-shirts. The output is beautiful, the system sets up faster because there are fewer moving parts to the system and it's compact.
I have seen the light…so to speak.