If I had to guess, I'd say that easily 97% of the work I do is on location. And I've had the opportunity to shoot in some pretty fun locations. On occasion, those locations have included hallways and spare rooms backstage at concert venues. I've shot in a musician's manager's office that was so small, once I was set up, no one could enter or leave the room until we were finished shooting. I've set up in hotel rooms in New York, Toronto & California. I've even set up against the side of a tour bus in Rochester NY back stage at a Buckcherry/Papa Roach show.
I've also had the distinct pleasure to be invited into the homes of some very cool musicians including those of Jack Irons, the founding drummer of the Red Hot Chili Peppers who was later a member of Pearl Jam, Gilby Clarke and Matt Sorum, a couple of former members of Guns N Roses and Chino Moreno of Deftones (who invited me to hang around for a beer and to watch the Giants v 49ers game after we wrapped our portrait session).

Recently, that location was likely one of the most unusual I've set up in to date; the showers in the hockey dressing room at General Motors Centre in Oshawa, Ontario when I had the opportunity of a portrait session with venerable rock and roll badass, Motorhead's Lemmy Kilmister.
From previous experience, having photographed him once before, backstage at Toronto's Kool Haus, when Motorhead came through on a headlining tour in 2011, I knew two things; I needed to be prepared and I needed to be fast. The first time I shot Lemmy, I had him in front of my cameras for 91 seconds from first frame to last before he and his then assistant Alan Hungerford walked back toward the dressing room, but that was okay because I was ready.
This time I was even more ready.
Lemmy's assistant Steve Luca picked me up at the GM Centre box office and led me through the hallways under the stands into what turned out to be Motorhead's dressing room; the visiting team hockey dressing room. There's not a lot of space in there once you drape off large sections of the room and add catering tables & leather sofas. I stuck my head around one corner and low and behold, a room roughly 10' x 25; plenty large enough for that night's studio…with the added bonus of being all tiled in slightly off-white for LOTS of soft reflected light for fill. The showers.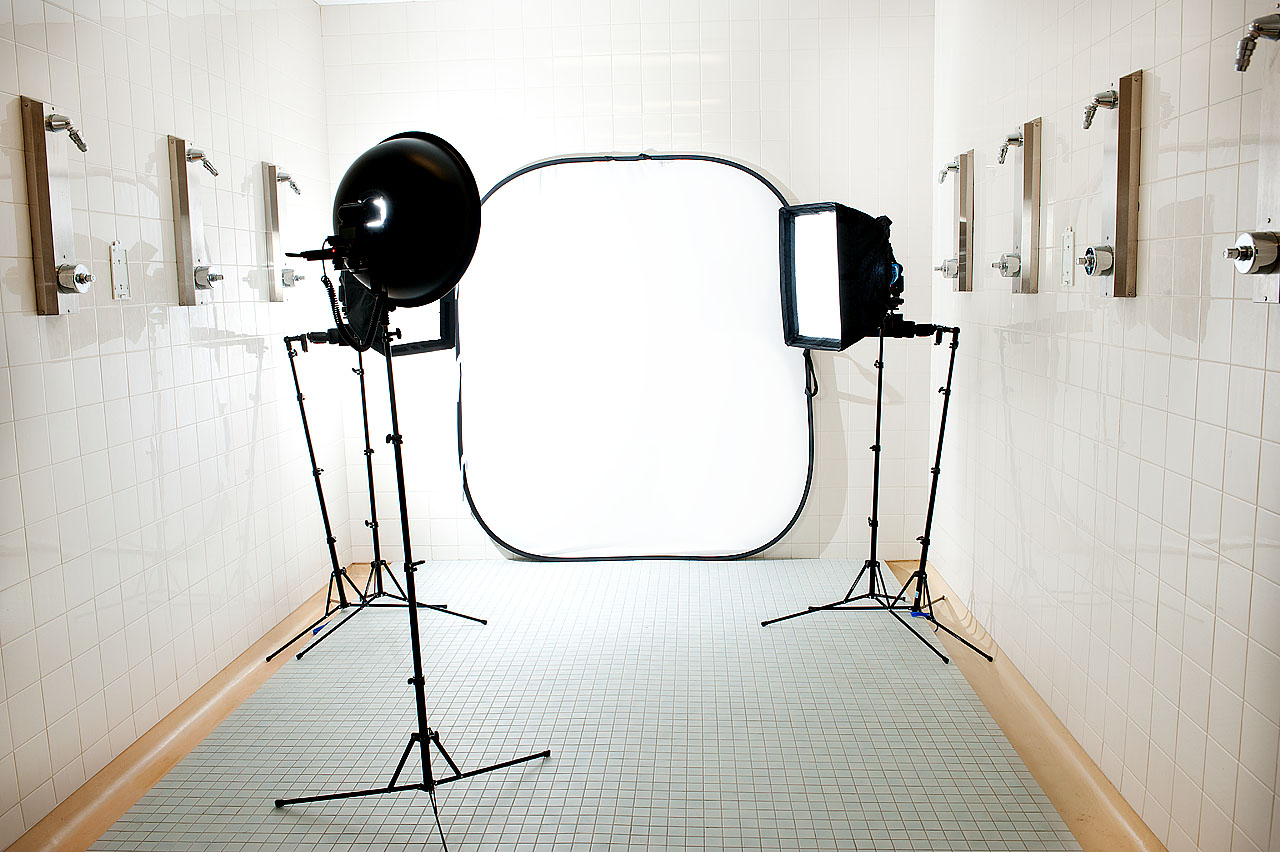 I set up in about 10 minutes (the beauty of that portable lighting kit!) and waited. About 20 minutes after we walked into the room Steve asked if I was ready and brought Lemmy in; it was on.
I showed him to his mark and away we went. A new record; 83 seconds and we were done. Only fitting I suppose that my fastest ever portrait shoot should take place in one of the more unusual locations I've ever set up in.